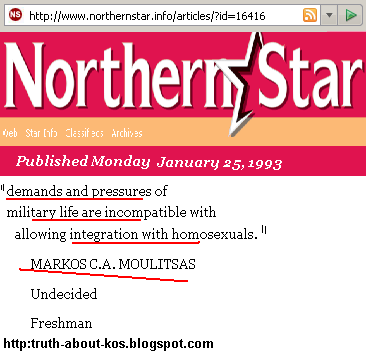 An online biography of Markos Alberto Moulitsas Zúñiga says:
After leaving the Army, he [Moulitsas] attended Northern Illinois University and wrote for, and eventually managed, the Northern Star college newspaper. Eventful.Com


While at Northern Illinois University in 1993, during the period when President Clinton was endeavoring to implement a new policy that would allow gays to serve openly in the US military, Markos A. C. Moultisas published an essay in the Northern Star, opposing the service of gays in the military. This essay, entitled "Military Right," was among the more than three dozen pieces he published in his role as "staff reporter" for Northern Illinois University college newspaper.

Clinton's 1993 initiative for gay rights was defeated. Markos A.C. Moulitsas' 1993 essay opposing Clinton's gay rights initiative is reprinted below, verbatim, in its entirety.

Markos C.A. Moulitsas wrote:
Military Right


Published on: Monday, January 25, 1993

It's truly disturbing how much ado has been made over Bill Clinton's campaign promise to lift the ban on homosexuals from the U.S. military. It's ironic how it has taken a president who has never served in the military to make a promise that affects the military in such a negative manner.

Those who have served in the military, such as myself, understand the demands and pressures of military life are incompatible with allowing integration with homosexuals. I'm neither socially conservative or prejudiced, and neither is liberal columnist Mike Royko, Gen. Colin Powell, and influential liberal Democrats Sam Nunn and Les Aspin, all who've come out against lifting the ban.

Under military circumstances, as much has to be done as possible to focus the unit's mission and keep disciplinary problems to a minimum. Worrying about whether the known homosexual sleeping next to you is watching as you change your underwear may seem trivial as you read this, but to the soldier who's short-tempered after three weeks in the field and four hours of daily sleep, it becomes a matter of great importance to his pride and sensibilities. And in any case, there aren't many people who would change clothes in a group of co-workers if members of the opposite sex were in the same room watching. There is something inherently uncomfortable about it.

Such fears would go a long way in disrupting efficiency and morale in a unit.

MARKOS C.A. MOULITSAS

Undecided

Freshman

Northern Star

John M. Shalikashvili, a retired army general, was chairman of the Joint Chiefs of Staff from 1993 to 1997. Explaining historically why gays are not allowed in the military today, Gen. Shalikashvili said this year in a New York Times Op-Ed piece,
In the early 1990s, large numbers of military personnel were opposed to letting openly gay men and lesbians serve. President Bill Clinton, who promised to lift the ban during his campaign, was overwhelmed by the strength of the opposition, which threatened to overturn any executive action he might take.

Markos A.C. Moulitsas Zúñiga (MAMZ) was one of the ex-military whose vocal opposition to gays' participation in the media made it politically impossible for Bill Clinton to make good on his campaign promise to allow gays to serve in the military.

The irony of Markos A.C. Moulitsas' political career is that if he had not been so successful in his Republican activism as a youth, then much of what is wrong with America today would never have come to pass. For example, without the Republican activism of military people like Markos A.C.Moulitas, gays might be serving openly in the military today, instead of waiting until some time in the future.

While President Clinton and his wife Hillary were taking hits from Republicans because they were trying to open the military to service by gays, Markos A. C. Moulitsas was siding with the Republicans and criticizing equal rights for gays.

Now, MAMZ accuses the Clintons of being too conservative! MAMZ accuses the Clintons of selling out progressive values, but this essay shows who the real enemy of progressive values is. When the Clintons were providing leadership for gay rights, Markos C.A. Moulitsas stood up and opposed the Clintons. And the homophobic anti-gay policy that Markos C.A. Moulitsas successfully championed in 1993 is still in place today.

I can't trust MAMZ to fight for gay rights. I can't trust MAMZ to fight for Blacks' rights. I can't trust MAMZ to fight for women's rights, and I don't want MAMZ running the Democratic Party.